No.1
Angel @ ICON
Shanghai Stadium -access by Gate 7 on Lingling Road (near Xietu Road), Xuhui District 上海市 徐汇区 八万人体育场 零陵路7号门进, 近斜土路
86 400 669 1069
Weekend opening times: Fri-Sat 22:00 - 04:30
Audience Rating: 4.0 stars from 9 votes - Click to vote
DANCE PARTY: Around The World Party
The most popular weekend gay dance party in Shanghai, now moved to a new home at club ICON in March 2014. ICON is the largest gay dance venue in Asia, with state-of-the-art light and sound system.
Angel parties attract a large number of partyboys who just can't wait to take their shirt off. Expect fabulous productions with international guest DJ's and hunky dancers.
Special events are held regularly, including the ever-popular Heaven party.
No.2
390 Shanghai
390 Panyu Road (near Fahuazhen Road), Changning District 中国上海市长宁区番禺路390号
One of the newest gay venues in the Shanghai nightlife scene. 390 is a bar with regular live music during the week and turns into a fabulous dance club with live DJ and party-goers filling the dance floor at weekends.
Regular special events include the 'Hunt' parties – check their website for details.
Features: bar, music, dancing, live music, gogo show (酒吧, 舞蹈, 音乐, 现场音乐, 性感秀)

No.3
Eddy's Bar
1877 Huaihai Middle Road, Xuhui DIstrict
86 21 6282 0521
Weekday opening times: 20:00 - 02:00
Weekend opening times: 20:00 - 03:00
A Shanghai institution. Eddy's Bar opened in Weihai Lu in 1995 but moved to Huaihai Lu in 2002. It is the longest-running gay venue in the city and still pulls in crowds of locals and expats on the weekends.
Eddy's has an interesting décor, combining grey slate, Chinese lanterns and Asian art. Great service and an affordable drinks. A great place to hang out before heading to Shanghai Studio. Gets busy after 10pm.
Features: bar, music, dancing (酒吧, 舞蹈, 音乐)
No.4
Shanghai Studio
1950 Huaihai Middle Road, No 4
86 21 6283 1043
Weekday opening times: 21:00 - late
Weekend opening times: 21:00 - late
Subterranean labyrinth of World War II bomb shelters that has been converted into a stylish gay playground for the young and trendy crowd. Access is via a flight of steeps and through a hallway art gallery to a series of interconnecting lounge bars and small dance floor.
Shanghai Studio is located in the French Connection close to Eddy's Bar. Regular special events and a happy hour every day from opening until 10:30pm.
Features: bar, music, dancing (酒吧, 舞蹈, 音乐)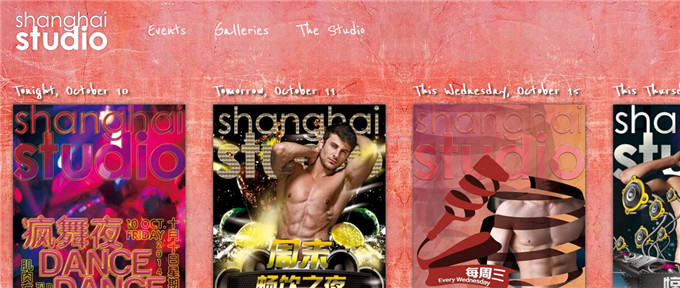 No.5
Transit Lounge
141 Tai'an Road, Changning District 上海泰安路141号
86 21 6283 3051
Weekday opening times: 20:30 - 02:00
Weekend opening times: 20:30 - 02:00
Intimate, upmarket Transit Lounge bar offers a more laid-back and relaxed environment where you can enjoy a cocktail and a chat with friends. Easy-listening Asian pop music in the background.
Open daily. Free WiFi available.
Features: bar, music, free wi-fi (酒吧, 音乐, 免费无线上网)
NO.6
Bobo Relaxing House
1011 Qiujiang Road, 3rd Floor, Chu Tian Hotel, Zhabei District
86 138 1638 8565
Bobo Relaxing House (or simply "New Bobo") is a Japanese-styled karaoke bar and dance club that is one of Shanghai's most popular hangouts for panda bears and their chasers.
Expect a kaleidoscope of funky lighting illuminating the main (flashing) dance floor and plenty of singing action in private rooms. 中国.上海.闸北区虬江路1011号楚天大酒店三楼,靠近会文路
Features: bar, music, dancing, karaoke (酒吧, 舞蹈, 音乐, 卡拉OK)
No.7
Blend
3 Yongjia Road, Lane 15, Huangpu District
Weekday opening times: 11:00 - 23:00
Weekend opening times: Fri,Sat 11:00 - 01:00
Popular LGBT hangout that has re-enforced its gay-friendly credentials by sponsoring the 2013 Shanghai Pride. Blend offers a great selection of smoothies, ice creams, pastas and pizzas, along with a wide selection of coffees, sodas, cocktails, beer and wine and free WiFi.
Located on Yongjia Road (near The Intercontinental Rui Jin Hotel). Regular weekday evening happy hours and excellent weekend brunch menu.
Features: bar, music, cafe, restaurant, free wi-fi (酒吧, 音乐, 咖啡馆, 餐厅, 免费无线上网)
No.8
Lai Lai Dance Hall
2/F, 235 Anguo Road (near Zhoujiazui Road), Hongkou District
Weekend opening times: Fri-Sun 19:00 - 21:30
Lai Lai Dance Hall in Hongkou provides a uniquely Chinese way for older gay men to discreetly meet and dance.
The Hall is dominated by the Chinese pop classics blasted out in this rather run down venue. Customers don't come for the music or for the environment, but rather to feel comfortable in a place where they can show their genuine feelings.
Lai Lai affords a generation of gay men (many of whom are married) a few hours to be themselves. Understanding foreigners most welcomed.
Features: bar, music, dancing (酒吧, 舞蹈, 音乐)
gay-popular straight bars
No.1
Craft
Donghu Hotel (south wing), 7 Donghu Road, Luwan district
86 139 1798 5763
Weekday opening times: Wed-Thu 17:00 - 01:00
Weekend opening times: Fri-Sat 17:00 - late
Small, intimate bar with a relaxed atmosphere and an extensive selection of vodkas. If you do not care for vodka, there is a basic selection of beer, wine and other spirits. The music is nicely uptempo with some retro and funky sounds.
Located in Donghu Hotel's south wing – opposite side of the road from Sichuan Citizen (look for the 'Cinderella KTV' sign and go through the alley and up the stairs to the top floor).
No.2
Glamour Bar
6/F, No.5 The Bund (corner of Guangdong Road), Huangpu District
86 21 6350 9988
Weekday opening times: 16:00 - late
Weekend opening times: 16:00 - late
Gay-friendly cosmopolitan, upmarket champagne and cocktail lounge bar on the Bund. Popular with the cool and style-conscious gay crowd. Not a place to pick up but to hang out with friends – gay or straight. Open daily from 4pm until late.
Features: bar, music, live music (酒吧, 音乐, 现场音乐)
No.3
The Geisha
390 Shaanxi South Road (near Fuxing Road), Xuhui District
86 21 6403 0244
Weekday opening times: 17:00 - 02:00
Weekend opening times: 17:00 - 05:00
Located in a 3-story building in the heart of the French Concession, The Geisha is an upmarket restaurant/bar/lounge offering a unique dining experience with its extensive drinks menu of Western and Asian classics.
The restaurant on the ground floor has an open kitchen and can seat up to 50 people. The Vegas-style club on the second floor features DJ, live art, acrobatic and Geisha dancing performances. On the third floor, there is a sushi bar & sake lounge, offering a chill-out spot and late-night dining.
The Geisha is a proud sponsor of Shanghai Pride 2013.
Features: bar, music, live music, restaurant (酒吧, 音乐, 现场音乐, 餐厅)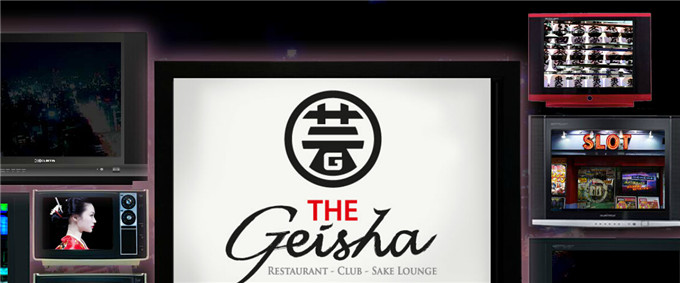 No.4
Upstairs @ URBN
183 Jiaozhou Road, Jing'an District
Cozy, sophisticated rooftop lounge bar located on the top floor of URBN Hotels with sweeping views of the Jing'an district. Upstairs is great for small gatherings and available for private events.
Features: bar, music (酒吧, 音乐)