Beijing Gay Club
No.1
Destination Club
7 Gongti Xi Lu, Chaoyang District
86 10 6552 8180
Weekday opening times: 20:00 - 02:00
Weekend opening times: 20:00 - late
Located in eastern Beijing's Chaoyang district and near the lively Sanlitun Bar Street, Destination Club is the largest and one of the most popular gay dance clubs in the city.
This stylish venue features different bar areas and a large dance floor. Most cute & friendly staff speak some English. Regular themed evenings include the ever-popular monthly 'Bear Hunting' Friday. Free WiFi is available.
Features: bar, music, dancing, free wi-fi (酒吧, 舞蹈, 音乐, 免费无线上网)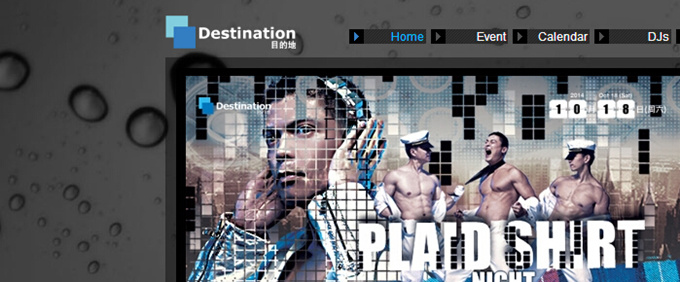 No.2
Funky Bar & Lounge
6/F, 8 Gongti Xi Lu, Chaoyang District 朝阳区工体西路8号 六楼的
86 10 6551 6866
Weekday opening times: 21:00 - late
Weekend opening times: 21:00 - late
Opened in July 2013, Funky Bar & Lounge is the latest addition to the Beijing gay nightlife scene and quickly became a local gay institution. This sophisticated nightclub features a dance floor, stylish décor, a lounge bar, state-of-the-art sound system and a rooftop terrace with skyline views.
Very busy on the weekends. Funky Bar hosts occasional parties featuring international DJ's who play the best hard house & dance music. Expect lots of muscle boys and go-go dancers.
Features: bar, music, dancing (酒吧, 舞蹈, 音乐)
No.3
Ten Bar
Aihua Hotel Simon B, 48 Tiantan East Road, Temple of Heaven & Hongqiao Market
86 10 5120 5588
Weekday opening times: 20:00 - 02:00
Weekend opening times: 20:00 - 02:00
Long-running bar located within the Aihua Hotel in Chongwen District, Ten Bar offers drag regular shows (usually starting around 11pm). The bar also has 15 well-equipped private karaoke rooms.
On the weekend, you could expect dance performances and drag shows starting around 11pm. Mostly local crowd speaking Chinese, but staff and patrons are very friendly and will make an effort to talk in English. Large selection of wine only available by the bottle.
Features: bar, music, karaoke (酒吧, 音乐, 卡拉OK)
No.4
Mesh @ The Opposite House
11 Sanlitun Road, Chaoyang District
86 10 6417 6688
Weekday opening times: 17:00 - 02:00
Weekend opening times: 17:00 - 02:00
On the bustling streets on Sanlitun, this award-winning contemporary bar/lounge is located on the ground level of The Opposite House hotel.
Mesh attracts trendy, professional mixed crowds and also hosts occasional gay nights. A great place to chill out and soak up the atmosphere. Extensive wine list and signature cocktails and are offered. Alfa bar is very close by.
Features: bar, music, restaurant (酒吧, 音乐, 餐厅)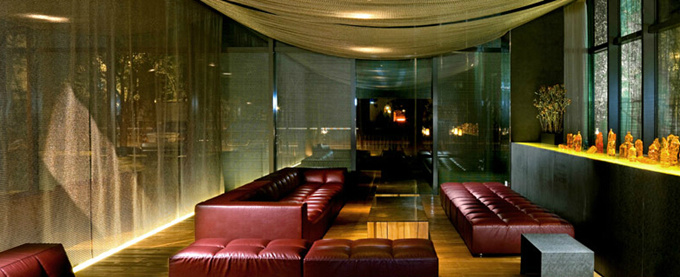 No.5
Alfa
6 Xingfu Yicun (in the alley opposite the north gate of Workers' Stadium), Chaoyang District
86 10 6413 0086
Weekday opening times: 18:00 - 03:00
Weekend opening times: 18:00 - 03:00
Stylish, gay-friendly bar with a dance floor in a very friendly atmosphere. The crowd is mixed and diverse, and the place gets packed on Friday nights with its gay party.
Alfa is a strong supporter of the LGBT community. Located in Chaoyang District, so you can check out other nearby gay venues in Beijing. Mesh @ The Opposite House is only minutes away.
Features: bar, music, dancing, free wi-fi (酒吧, 舞蹈, 音乐, 免费无线上网)
No.6
Jujiao Yanyi Bar @ Golden Sun Commercial
Golden Sun Commercial Hotel, 85 Xibianmennei Dajie, Xicheng District
86 10 5166 3298
Weekday opening times: 18:00 - 02:00
Weekend opening times: 18:00 - 02:00
Casual gay bar located in the basement of the Golden Sun Commercial Hotel that attracts a mostly local crowd. Jujiao Yanyi Bar features karaoke and drag shows that attract a large following, especially on the weekend. Drinks are reasonably priced. No cover charge.
Features: bar, music, karaoke, cabaret show (酒吧, 音乐, 卡拉OK, 歌舞表演)
No.7
Chill
2 Andingmen Xidajie
86 10 6405 9575
Weekday opening times: 15:00 - 02:00
Weekend opening times: 15:00 - 02:00
Gay-friendly bar/café in heart of old Beijing in a modern 'Hutong' setting. Chill 妾吧 offers a range of high-quality cocktails, beer and wine Heathy meals, homemade pizzas, pastas and finger foods are also served.
Chill is a supporter of the LGBT community. Located just off the south west corner of the Andingmen bridge junction, a 3-minute walk from Andingmen train station.
Features: bar, music, cafe (酒吧, 音乐, 咖啡馆)
No.8
Lantung Thai Bar & Bistro
inside Solana, 6 Chaoyang Park Road, Chaoyang District
86 10 5905 6213
Located right by the lakefront of Chaoyang Park, the gay-friendly Lantung Thai Bar & Bistro serves a fine selection of cocktails and tapas in a sophisticated, three-story lounge setting.
A great place to chill out, soak up the atmosphere and make some new friends. Weekend 'happy hour' with discounts on fresh tropical shakes and Moon Deck cocktail specialties.
Features: bar, music, restaurant (酒吧, 音乐, 餐厅)

Lesbian Bars and Disco
No.1
1801
Not far from DaWangLu Subway Station. Lesbian parties reported there mostly on Sat nights.
No.2
Beijing Lala Salon
Union Plaza Bld in a western restaurant on 1/F, Chao Yang Men area, Utopia Map, 135-0139-0576. Nearest subway stop is Chao Yang Men Station. Lala (lesbian) event every Sat afternoon from 2-6pm. Friendly space for chatting, sharing and support. Good for new comers to get to know people. Different topics for discussion and film showing each week. Local Chinese women from their mid 20's and above attend.
No.3
Lang Man Man Wu (Full House)
Dawang Lu, Xian Dai Cheng SOHO Building #2, Room #1804, 139-1077-0557. Stylish café JUST for Lesbians. Laid-back, intimate atmosphere with spacious interior, comfortable chairs, couches and private rooms. This cafe also offers a generous selection of drinks and snacks including an array of pasta's and rice. Thu night is especially for single lesbians who would like to meet one another. Open daily.
No.4
Shan Mu Lan Bar (mixed)
3 Shajing Hutong, Nanluoguxiang, Dongcheng Dist, 6403-7856. Located in a preserved old hutong area, close to Houhai bar area, but less commercial. A lesbian-friendly bar with exotic Xinjiang style decoration. Three floors with and open loft. The cool, luscious red sofas invite you to sink into them. The music is not so loud that you can't hold a decent conversation. Features Xinjing style rice and milk tea.
No.5
Wang You Ge (Forget About Worries!)
Hou Hai bar area (20m south of Yin Dian Bridge), 6657-1931. Very small, but cozy and quiet. Open nightly.
Disco
Destination
7 Gongti Xi Lu (near the Workers' Stadium). If you are coming from other parts of Beijing and using the subway, get off at Dong Si Shi Tiao Station, choose the exit that takes you to Gong Ren Ti Yu Chang (Workers' Stadium), walk along Gong Ti Bei Lu, you should go past the Asia Hotel, then the indoor stadium (Ti Yu GUAN), turn right immediately into Gong Ti Xi Lu, and walk for a bit, Destination will be on your right next to a Thai restaurant. Friendly management and staff, cool sound and lighting system and dance floor. Some women come to dance.
Massage and Saunas for Lesbian only
Baby Face Spa For Women Only
Chao Yang District, 182-1019-8582, email. Lesbian-owned and specializing in outcall body massage for female customers. Their female masseurs are professionally trained, attractive, young and they guarantee satisfactory service.